A fun trend…Wedding Cakes in Their Birthday Suits
Recently brides and grooms have been forgoing traditional wedding elements in exchange for fun and creative ideas that add an extra touch of personality to their weddings, especially when it comes to the wedding cake. One of the most popular alternatives to a tiered cake with fondant is the 'naked' wedding cake, whose bare crumb exposure leaves room for the delicious creation to take center stage, enhanced by the icing within and topped with anything from fresh berries to flowers, or a combination of the two!
By choosing to go au naturale, brides and grooms are able to achieve that ever-so-sought-after rustic look that has been such a hit recently. This is definitely one of our favorite trends and can't wait to see how it will take shape in the fall, what a perfect pairing with autumn leaves and colors!
What do you think, would you go bare with your wedding cake? Check out some of our favorite examples of naked wedding cakes below:
Hillary Duff and Mike Comrie even had a naked cake at their wedding in 2010, how elegant is this décor
This cake is the perfect rustic cake, covered in yummy berries!
How delicious does the compote on these separate cakes look!
You can even do different flavor cakes and fillings to please all kinds of taste buds!
Succulents are a great compliment to the natural look of a naked cake, plus who doesn't love a little ombré!
Don't forget to the sprinkles if you're looking to add a little pop of color!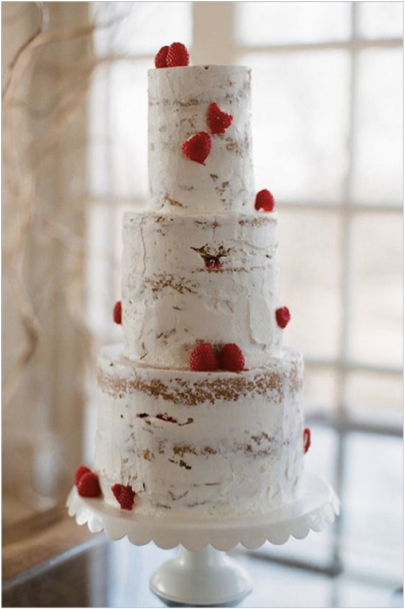 This one is frosted while still having that bare-it-all look.
Love the idea of piping a design on the bare cake!
Finally, you can't forget about the Pantone Color of the Year, Radiant Orchid! It shines on this cake!
XO, Casey