Signature Cocktails – Fall Inspiration
We, at Events By La Fete, love a signature cocktail! Whether it is for a wedding or a party, a signature drink allows you to add more of your own personality to your event. You can choose a drink that you love and often prefer, or you can choose a drink that reflects the season or "theme". With the chilly weather coming in quick – we couldn't help but think of fall inspired cocktails that are sure to delight your guests!
Blood & Sand
1 oz. scotch
¾ oz. Cherry Heering liqueur
¾ oz. sweet vermouth
¾ oz. fresh orange juice
Garnish with orange slice, maraschino cherry or both
Apple-Brandy Hot Toddies
1 1/2 cups hot water
2 tablespoons plus 2 teaspoons honey
1/2 cup fresh lemon juice
2 cups apple brandy, preferably Calvados
3-inch cinnamon sticks
Cranberry-Spice Cocktail
1 orange wedge
13 cranberries
Three 1-inch pieces crystallized ginger— 2 minced and 1 whole for garnish
2 ounces Aperol
1 ounce Lillet Blanc
Ice
4 ounces hard cider
4 dashes Cranberry-Anise Bitter or Peychaud's bitters
In a cocktail shaker, muddle the orange wedge with 10 of the cranberries and the minced ginger. Add the Aperol, Lillet Blanc, bitters and ice. Shake well. Double-strain the drink into an ice-filled Collins glass and top off with the hard cider. Garnish with the 3 remaining cranberries and the slice of ginger skewered on a toothpick.
Sparkling Apple Cider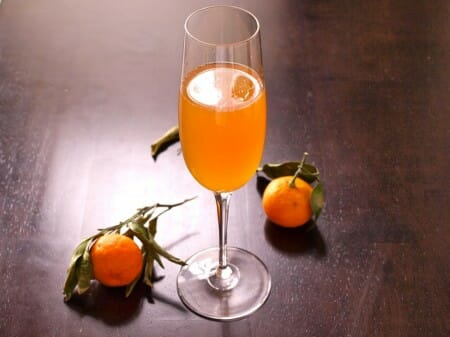 1 ounce apple brandy
1 ounce apple cider
2 dashes orange bitters
Ice
1 sugar cube
3-4 ounces chilled Champagne, Prosecco, or Cava
Combine the brandy, cider, orange bitters, and ice in a cocktail shaker. Shake thoroughly (at least 20 times). Place sugar cube in Champagne flute, strain brandy mixture into glass, and top with Champagne.