Written by Emily Uhland
Photographed by Luster Studios
Sept. 22, 2012
Lan Zhu and Kenny Lui
Lan Zhu and Kenny Lui both attended Enloe High School in Raleigh, but didn't know each other well until mutual friends brought them together as students at UNC-Chapel Hill. The couple dated for more than three years, and after a typical afternoon bike ride, Kenny proposed by presenting Lan with a photo album chronicling their relationship and ending with a photo of a Tiffany & Co. box.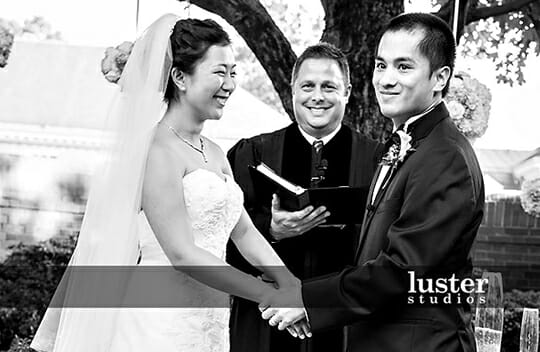 The couple, who loves to spend time outdoors, wanted a fall wedding and an outdoor ceremony followed by a formal, romantic dinner. Walking into the reception and seeing the dinner tables and floral centerpieces was a real "wow moment" for the bride. "I didn't imagine it would look that grand!" said Lan.
Guest books featuring the couple's engagement and baby pictures with Mad Libs-style fill-in-the-blanks provided a personalized way to connect with guests.
"The best thing was everything was so smooth. There were absolutely no hiccups in the road. It was carefree in the sense that I really wasn't stressed out at all during the day," said Lan.
Ceremony
The Carolina Inn
Reception
The Carolina Inn
Planner
La Fête, Katie Dunn
Photographer
Luster Studios, Craig Carpenter
Floral Design
Fresh Affairs
Gown
Victorian Rose Bridals
Cake
Swank Cake Design
Calligraphy
Calligraphy by Carrie